We can install high quality block paving in a variety of styles, colours and patterns to suit your budget and lifestyle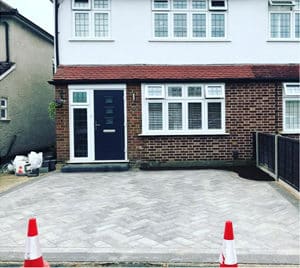 Updating your driveway is one of the easiest and most effective ways to make a huge improvement to the kerb appeal of your home and add thousands to its value.
Block paving is one of the most popular materials for driveways, patios and paths. It allows designs and patterns to be created easily whilst remaining a hard-wearing surface that will look good for many years to come.
Danmac Surfacing have over twenty years' experience in the design and installation of quality driveways and paving. We have experts in creating stunning driveway transformations and can design and install a driveway tailored specifically to your requirements.
We can supply and install the full range of custom designs and motifs. This gives you the freedom to choose the style, colour and pattern that best suits your property, budget and lifestyle.
We use inlay patterns to really make your paving stand out. We will work with you and advise you of how to create a bespoke look that compliments your property. All driveways can be enhanced by using curves, edging kerbs, steps, circles, different patterns and colours.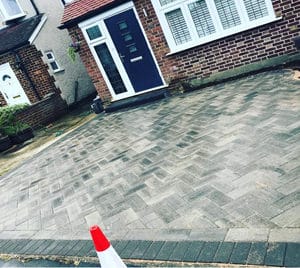 We can also install finishing touches such as the addition of block edging, lighting or gate posts to make your property look like new. Whatever your needs, we have something to suit your garden, budget and lifestyle.
At Danmac Surfacing, we focus on delivering a service that gets it right the first time. By investing in high quality materials, equipment and processes, we ensure that we deliver sustainable and cost effective solutions that will last.
All our driveways are laid to the highest standards and on a thick sub-base to prevent future sagging and subsidence after consistent use by vehicles.
We pride ourselves on our outstanding workmanship and customer care and we ensure that every job is carried out to the highest quality standards.
Our team can visit your site to carry out a free no-obligation survey. This allows our surfacing contractors to fully understand your requirements and offer an accurate and competitive quote.
More than just Bricked Paving:
South East Surfacing Contractors
Our Road Surfacing services include:
We offer more than just asphalt surfacing
Danmac Surfacing offer a range of asphalt resurfacing services
Line Markings
Car Park Markings
Playground Markings
Sports Courts Markings
Dropped Kerb Services
Council Work
Car Park Surfacing
Driveways
Useful links
HAUC(UK) brings highway authorities, utilities and government together with the aim of working safely and smartly to reduce the impact of street and road works on members of the public throughout the UK.
Roadworks, maintenance, policies, plans and consultations via the Surrey County Council Roads and Transport Portal.
An information portal about highway safety with lots of links to other safety websites
RoadSafe is a charitable partnership which brings together private sector with government and road safety professionals.
Get directions to Road Safe
Useful videos
Former Minister Norman Baker gave a video speech to the HAUC (UK) Conference in Edinburgh in which he welcomed the range of non-regulatory solutions the street works sector is taking forward